Background
Edit
The Warui pirates were a pirate crew from West Blue who were massacred by another pirate crew after entering the Grand Line. The remaining members then joined the Akuma Pirates.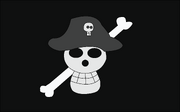 Members/Bounties
Edit
Bad Luck - 201,000,000
Hyochi Yuzu - 167,000,000
Garban Malichite (Deceased)
Shamus McDoogle (Deceased)
Walter Everyman - Deceased?
Maldo Buchan - (Former)