Ahoy there!
This article, Orvic D. Falter, is property of Araigen. Please ask before putting a link to this character in your page!
Orvic D. Falter

Pre Timeskip

 - 

Post Timeskip

Age
16, 17 (Timeskip)
Gender
Male
Species
Human
Blood Type
A+
Birth Date
8/16
Height
5'8"
Weight
170lbs
Occupation
Pirate
Town of Origin
Alcove -East Blue
Devil Fruit
Ashi Ashi no Mi
Current Bounty
212,000,000
Epithet
"Bigfoot"
Crew
Bigfoot Pirates
Family
Father
Appearance
Edit
Personality
Edit
Weapons/Powers
Edit
Orvic has the power of the Ashi Ashi no Mi which allows him to jump very high and create minor earthquakes when he lands. His kicks are also super powerful.
Special Attacks
Edit
Weaknesses
Edit
Standard devil fruit weaknesses.
Relationships
Edit
Current Events
Edit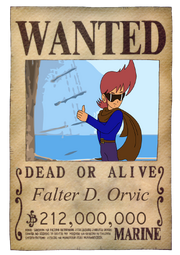 Related Articles
Edit