Ahoy there!
This article, Hirugaesu Zeit, is property of Araigen. Please ask before putting a link to this character in your page!
Hirugaesu Zeit
Age
41
Gender
Male
Species
Human
Blood Type
O+
Birth Date
7/1
Height
6'1"
Weight
180lbs
Occupation
Pirate, Captain
Town of Origin
 ?
Devil Fruit
Reiji Reiji no Mi
Current Bounty
780,000,000
Epithet
"First Finale"
Crew
Multiman Pirates (Former), Timeline Pirates
Family
Brother
Appearance
Edit
Personality
Edit
Hirugaesu tends to confuse himself while explaining time.
Abilities
Edit
Devil Fruit
Edit
Hirugaesu has the power of the Reiji Reiji no Mi, allowing him to manipulate time.
Haki/Rokushiki
Edit
Hirugaesu has mastery over Busoshoku and Kenbunshoku haki.
Hirugaesu knows how to play the bagpipes.
Special Attacks
Edit
Time Walk - Hirugaesu walks through time back and forth to the present to sneak attack his enemy.
Weaknesses
Edit
Relationships
Edit
Arzt Zeit - Brother
Past Events
Edit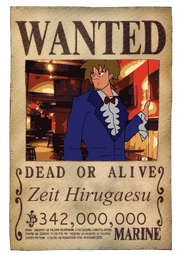 Current Events
Edit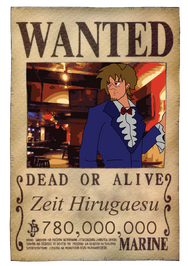 Related Articles
Edit